Company Profile
ZHIYUE GROUP CO.LTD is a factory who mainly produce power capacitor, intelligent reactive compensation controller, vacuum circuit breaker , high and low voltage power transformer, high and low voltage reactive compensation device, harmonic solving device. It is a company which integrate research, produce, trade , service as a unit.
Phone:+86-13968761826
Mobile:+86-13968761826
Email:niki@zhiyue.com
product description
JKL5CF Intelligent Reactive Compensation Controller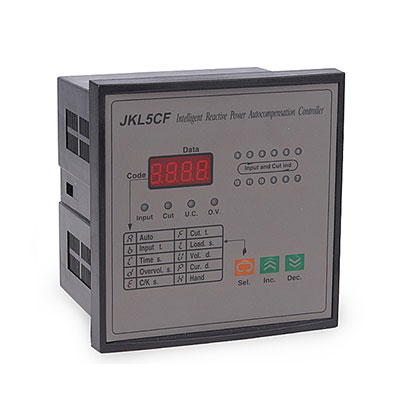 JKW series intelligent low voltage reactive auto compensation controller (abbr. Controller) is the special device for compensating reactive power for low voltage distribution system. Its sampling physical quantity is reactive power,with various specifications of 1 — 16 step dynamic output(JKWD15, JKWD2C) and static output(JKW15S JKW2C.. JKW1 BFs JKWIBJx JKW3B, JKW2B) etc, as well as with characteristics of novel design, multifunction, fine control performance and high reliability etc. It is at the leading position among similar products in domestic market and supplies a brand new device for distribution automation. This series product showing type face " " when power on denotes the program version of product
Technical Data:
Rated current: AC 0-5 A
Current input impedance: <= 0.02 Ohm
Frequency: 50Hz/60Hz
Rated voltage: AC 220V/380V
Protection grade of shell: IP30
Power: Max 8W
Contact capacity: Dynamic state DC 12V/50 Ma (Static state AC220V/7A) each branch
Sensitivity: 50mA
Feature:
1.Real time displays network state: including reactive power, power factor, secondary current, primary current and system voltage etc.
2.Automatically recognize the polarity of sampling signal, to avoid non-polarity connection.
3.With power down memory function by setting parameter. Data will not lose after power down.
4.With over voltage and under voltage protection functions.
5.With input and reset delay can be adjusted separately, with applicable capacity for electric network.
6.Re-inputting locking time can be set to ensure the capacitor with enough discharge time before inputting.
7.Whole digital of all kinds of parameters is adjustable, can be widely used in different electric network.
8.With strong anti-interference capacity, can directly resist the interfering impulse with total amplitude value of 2000V from periphery.
JKW18 intelligent low voltage reactive auto compensation controller
JKW18 series intelligent low voltage reactive auto compensation controller (abbr. Controller) are used for measurement and control of power factor control units for centrlaoyu al reactive power compensation. The POWER FACTOR measured by JKW18 is compared with the set point values and in order to provide necessary compensation , Power Factor Controller switches capacitor banks ON and OFF automatically .JKW18 is microcontroller relay, designed for above application in 146X146 case for flush mounting with rear plug-in connectors, in addition it displays the system's Cos¢,in Automatic Operating Mode,JKW18 display the RMS value of Voltage(V),Current(A).Active Power(KW)and Reactive Power(KVar)of measuring phase.
Technical Data:
| | |
| --- | --- |
| Rated Voltage (Un): | 220,230,240 VAC (Phase –Neutral Connection ) |
|   | 380,400,415 VAC(Phase-Phase Connection) |
| Operating Voltage Range: | (0.9-1.1)x Un |
| Rated Current(In): | …./5A |
| Operating Current Range: | (0.91-1.1) X In |
| Rated power: | Voltage: 3VA-10VA |
| Output Contact: | 3A, 750 VA (NO Contact) |
| No-Voltage Feature: | in case of power failure longer than 200 msec. all capacitor steps are disconnected automatically . |
| Setting Range: | C/K:0.02-1.0 Steps: 1-12 COS¢ :0.85(ind.)-1.00 |
|   | CTR:5-6000 Time:2-50 sec, Program:PS1-PS5 |
|   | Over Voltage: 220-260V(380V-500V) |
| Factory Set Value: | COS¢=1.00(ind.),Step =12 ,Time=7(sec) |
|   | Program=PS1, C/K=0.05, CTR=500 |
|   | Over voltage:240v/430v |
| Ambient Temperature: | -25degree -55degree. |
| Display: | 4 Digit, Red Display. |
| Equipment Protection Class: | Double Insulation- Class II |
| Wire Section (For Terminal Block): | 2.5mm2 |
| Terminal Block Protection Class: | IP 00 |
| Protection Class: | IP 20 |
| Connections: | Socket terminal with screw |
| Dimension : | Type PR16 |
| Switchboard Cut-out : | 139X139MM |
| Weight: | 0.8kg |