JKW18 intelligent low voltage reactive auto compensation controller
。Equipment Protection Class: Double Insulation- Class II
。Wire Section (For Terminal Block):2.5mm2
。Terminal Block Protection Class: IP 00
。Protection Class: IP 20
。Connections: Socket terminal with screw
Detailed introduction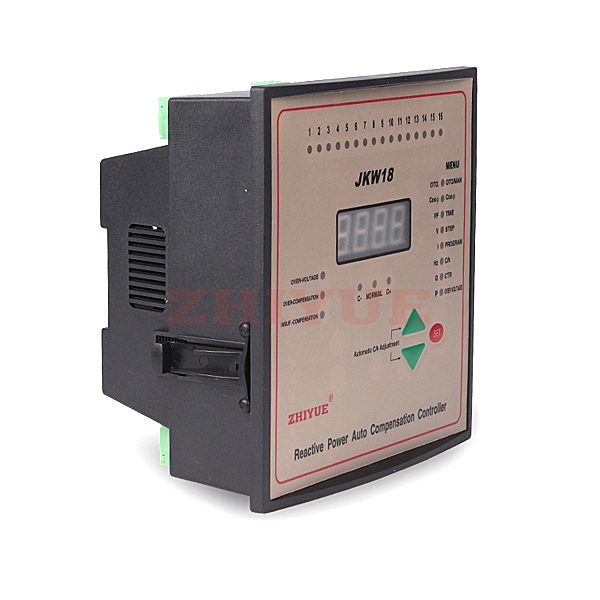 JKW18 Intelligent Reactive Compensation Controller
Product Description
JKW18 series intelligent low voltage reactive auto compensation controller (abbr. Controller) are used for measurement and control of power factor control units for centrlaoyu al reactive power compensation. The POWER FACTOR measured by JKW18 is compared with the set point values and in order to provide necessary compensation , Power Factor Controller switches capacitor banks ON and OFF automatically .JKW18 is microcontroller relay, designed for above application in 146X146 case for flush mounting with rear plug-in connectors, in addition it displays the system's Cos¢,in Automatic Operating Mode,JKW18 display the RMS value of Voltage(V),Current(A).Active Power(KW)and Reactive Power(KVar)of measuring phase.
Technical Data:
Rated Voltage (Un):
220,230,240 VAC (Phase –Neutral Connection )
380,400,415 VAC(Phase-Phase Connection)
Operating Voltage Range:
(0.9-1.1)x Un
Rated Current(In):
…./5A
Operating Current Range:
(0.91-1.1) X In
Rated power:
Voltage: 3VA-10VA
Output Contact:
3A, 750 VA (NO Contact)
No-Voltage Feature:
in case of power failure longer than 200 msec. all capacitor steps are disconnected automatically .
Setting Range:
C/K:0.02-1.0 Steps: 1-12 COS¢ :0.85(ind.)-1.00
CTR:5-6000 Time:2-50 sec, Program:PS1-PS5
Over Voltage: 220-260V(380V-500V)
Factory Set Value:
COS¢=1.00(ind.),Step =12 ,Time=7(sec)
Program=PS1, C/K=0.05, CTR=500
Over voltage:240v/430v
Ambient Temperature:
-25degree -55degree.
Display:
4 Digit, Red Display.
Equipment Protection Class:
Double Insulation- Class II
Wire Section (For Terminal Block):
2.5mm2
Terminal Block Protection Class:
IP 00
Protection Class:
IP 20
Connections:
Socket terminal with screw
Dimension :
Type PR16
Switchboard Cut-out :
139X139MM
Weight:
0.8kg
If you have any enquiry about quotation or cooperation,please free to email us at niki@zhiyue.com or use the following enquiry form,Our sales representative will contact you within 24 hous.thank you for your interest in our products.