Company Profile
ZHIYUE GROUP CO.LTD is a factory who mainly produce power capacitor, intelligent reactive compensation controller, vacuum circuit breaker , high and low voltage power transformer, high and low voltage reactive compensation device, harmonic solving device. It is a company which integrate research, produce, trade , service as a unit.
Establish in 1991,the factory building of the company covers an area of 6800 square meters, There are more than 100 workers now, 32 engineers, 10 senior engineers among them , more than 300 professional and technical personnel. The company is divided into five branch companies and ten selling branch office , and our selling agent is all over China, and our product is sold to many countries such as Southeast Asia, South America, Africa, Turkey, Russia, Bangladesh and so on, gain many trust from the customers.
Phone:+86-13968761826
Mobile:+86-13968761826
Email:niki@zhiyue.com

product description
split phase compensation power capacitor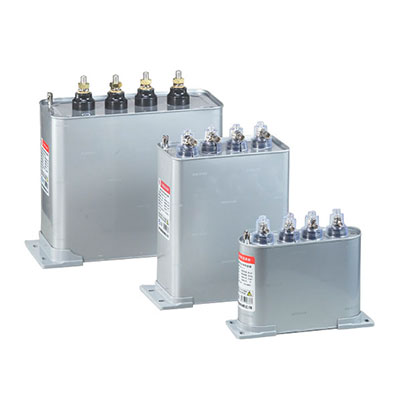 General Description:
With the development of reactive compensation technology, as for three-phase unbalanced load, to conduct the split phase compensation of the reactive power by applying the way of respective three-phase switching of capacitor, so as to improve the accuracy of the compensation and optimize electricity-saving result. In order to do so, our company has developed split phase compensation shunt capacitor. It's shell is designed with neutral points, from which the connnecting terminals are led out. That will facilitte the split phase switching of capacitor.
As to the main features, technical indexes, working conditions,appearance and mounting dimensions, refer to the relevant conditions and parameters of low-voltage shunt capacitor of manufactured by our company.
Structure and Connection:
1.Three single-phase capacitors should be connected like Y-, with the neutral point introducing out (End N), thus three single-phase capacitors are composed. The AN, BN, and CN are independent units during operation.
2.Each independent unit is connected with discharge resistance.
3.Any damage of the independent unit is connected with over voltage buffer to shunt off.
Note: three single-phase capacitor with independent unit is also suitable for the split-phase compensation.The three capacitors are small and are deeply appreciated by the users.
Cylinder type CMKP three phases Power Capacitor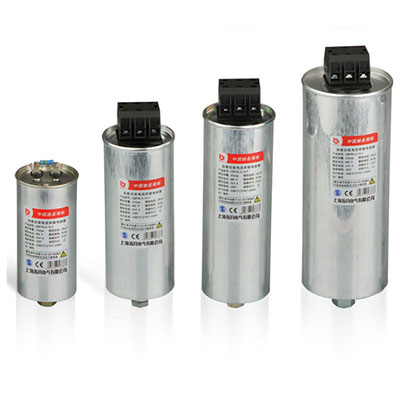 CMKP series low voltage capacitor of the self-healing type round capacitor is use for correcting the power factor of 50Hz and 60Hz low voltage power system device. It is suit for compensation on the spot and concentrate auto compensation, can reduce reactive loss, improve voltage quality, is a energy conservation product.
The product is according to IEC831-1/2.
Main technical characteristics:
1.Rated voltage: 0.23kv, 0.4kv, 0.415kv, 0.45kv, 0.525kv and so on.
2.Rated output: 1-30kvar.
3.Capacitance tolerance: -5% - 10%.
4.Tangent of the loss angle: smaller than 0.1%.
5.Between terminals withstand voltage:2.15 times rated voltage for 5 seconds.
6.Dielectric level: add voltage between terminal and case: 2times of rated voltage add 2KV or 3KV, choose the higher one, it takes 10s, no spark over or flash.
7.Max permissible over-current: when 1.1 times rated voltage, it can not exceed 8 hours per day; when 1.15 times rated voltage, it can not exceed 30 minutes per day, when 1.2times voltage, can not exceed 5 minutes per day, 1.3times rated voltage, can not exceed 1 minutes per day.
8.Max permissible over-current: 1.3times of rated current, but consider to the voltage, capacitance tolerance and harmonic, the transient current can not exceed 1.43 times of rated current.
9.Discharge feature: it has built-in discharge resistor, discharge 3 minutes, the voltage will down to below 50V after the capacitor cut off the power.
10.According to the IEC60831-2002 standard.
Working Condition:
1.Alitude: lower than 2000m
2.Ambient temperature -25℃ - 50℃
3.Humidity: smaller than 90%
4.After the power cut off, reputing when make sure the remain voltage is smaller than 10% of the rated voltage, usually this thime is 200s, so the controller you use should has the function of time delay for reputing after cut off.