JCZ5-12KV Vacuum Contactor
General Description:
VCZ5-7.2,12/400,630 series vacuumcontactor is used in an AC. 50-60 Hz electric power system, with rated working voltage is 7.2Kv and 12kV, and rated current of 400A,630A, for direct or romote on-off control and circuit-breaking control of the of the main load. It is especially suitable for the frequently operated electric control applications such as electric motors, transformer, etc. This series adopts integrated framework, before-and-after layout between the main circuit and controlling circuit, adopts electrical latch or machanical latch, and vacuum interrupter with ceramic shell.
Main Specifications:
1. High-voltage AC vaccum contactor
2. Designed code
3. Rated voltage(kV)
4. Latching mode:J—machanical latch; D—electrical latch
5. G—high altitude; Y—movable type; None—basic type
6. Rated current(A)
7. Rated short-time withstand current(kA)
8. Vaccum shell materials: T—ceramic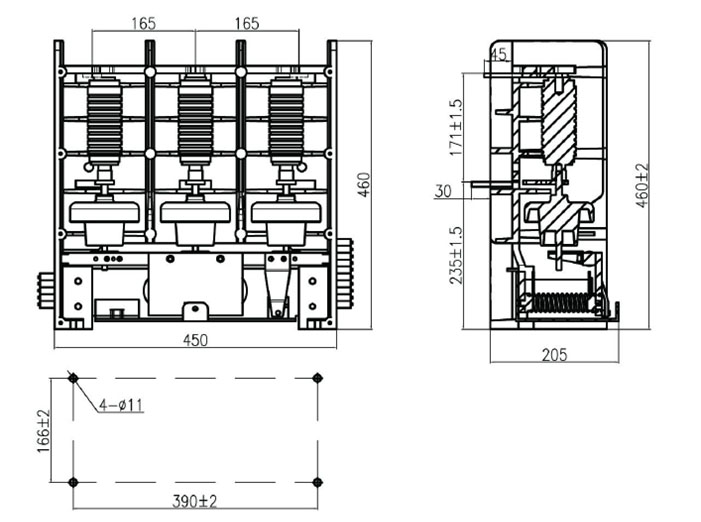 Technical Data:
NO.

Parameters

Unit

Value

JCZ5-7.5J/D-630/400/250

JCZ5-12J/D-630/400/250

1

Rated Voltage

kV

7.2

12

2

Rated Current

A

630

400

250

630

400

250

3

Rated closing current (rms)

A

6300

4000

2500

6300

4000

2500

4

rated breaking current

5040

3200

2500

5040

3200

2500

5

4S thermal current

6300

4000

2500

6300

4000

2500

6

Limit breaking current

6300

4000

2500

6300

4000

2500

7

Power frequency withstand voltage

kV

32

42

8

operating frequency

Times/h

300

9

Electric life time

AC-3

×104 Times

25

AC-4

10

10

Mechanical life

30

11

Rated operating voltage

V

AC110/220

12

Closing coil pull current

A

≤ DC6/3

13

Holding coil holding current

D:DC0.32/0.16

14

Shunt trip coil current

J:DC2.5/1.3
NO.

Parameters

Unit

Value

JCZ5-7.2J/D-630/400/250

JCZ5-12J/D-630/400/250

1

contact distance

mm

4.5+1.0/-0.5

6+1.0-0.5

2

contact overtravel

1.5±0.5

3

Average closing speed

m/s

0.1~0.25

4

Average opening speed

0.3~0.6

5

3 Phase closing - opening period

ms

≤ 2

6

Closing time / opening time

≤ 150/ ≤ 150

7

Each phase conductive loop resistance(20oC)

Ω

≤ 250
Model

Rated voltage (V)

Rated current main circuit(A)

Main contact parameters

Power frequency coltage resistance V(effective value)

Main circuit

control circuit

Distance (mm)

Overtravel(mm)

Final pressure(N)

Mian circuit

Auxillary circuit

Control circuit

JCZ5-7.5D(J)/160

7200

100,220

160

4.5±0.5

1.5±0.5

>85N

32000

2500

2000

JCZ5-7.5D(J)/250

7200

100,220

250

4.5±0.5

1.5±0.5

>85N

32000

2500

2000

JCZ5-7.5D(J)/400

7200

100,220

400

4.5±0.5

1.5±0.5

>85N

32000

2500

2000

JCZ5-7.5D(J)/630

7200

100,220

630

4.5±0.5

1.5±0.5

>85N

32000

2500

2000