split phase compensation Low Voltage Power Capacitor
General Description:
With the development of reactive compensation technology, as for three-phase unbalanced load, to conduct the split phase compensation of the reactive power by applying the way of respective three-phase switching of capacitor, so as to improve the accuracy of the compensation and optimize electricity-saving result. In order to do so, our company has developed split phase compensation shunt capacitor. It's shell is designed with neutral points, from which the connnecting terminals are led out. That will facilitte the split phase switching of capacitor.
As to the main features, technical indexes, working conditions,appearance and mounting dimensions, refer to the relevant conditions and parameters of low-voltage shunt capacitor of manufactured by our company.
Structure and Connection:
1.Three single-phase capacitors should be connected like Y-, with the neutral point introducing out (End N), thus three single-phase capacitors are composed. The AN, BN, and CN are independent units during operation.
2.Each independent unit is connected with discharge resistance.
3.Any damage of the independent unit is connected with over voltage buffer to shunt off.
Note: three single-phase capacitor with independent unit is also suitable for the split-phase compensation.The three capacitors are small and are deeply appreciated by the users.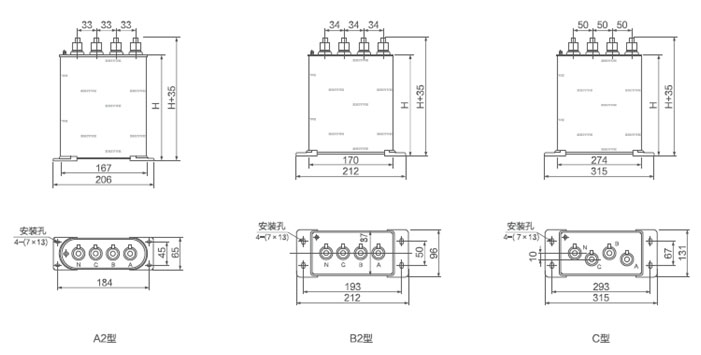 Model BSMJ
BCMJ BZMJ
Rated line
Voltage(kV)
Rated
Voltage(kV)
Rated
Output(kvar)
Rated
Capacitor(uF)
Rated
Current(A)
H
(mm)
Output
Terminal
Shell
Type
0.23√3-1-3
0.4
0.23
1
20.1
1.4
130
M6
A
0.23√3-2-3
0.4
0.23
2
40.1
2.9
130
M6
A
0.23√3-3-3
0.4
0.23
3
60.2
4.3
130
M6
A
0.23√3-4-3
0.4
0.23
4
80.2
5.8
130
M6
A
0.23√3-5-3
0.4
0.23
5
100.3
7.2
130
M6
A
0.23√3-6-3
0.4
0.23
6
120.4
8.7
130
M6
A
0.23√3-7.5-3
0.4
0.23
7.5
150.4
10.9
220
M6
A
0.23√3-8-3
0.4
0.23
8
160.5
11.6
220
M6
A
0.23√3-10-3
0.4
0.23
10
200.6
14.5
220
M6
A
0.23√3-12-3
0.4
0.23
12
240.7
17.4
220
M6
A
0.23√3-14-3
0.4
0.23
14
280.8
20.3
220
M6
B
0.23√3-15-3
0.4
0.23
15
300.9
21.7
220
M6
B
0.23√3-16-3
0.4
0.23
16
320.9
23.2
220
M6
B
0.23√3-18-3
0.4
0.23
18
361
26.1
220
M6
B
0.23√3-20-3
0.4
0.23
20
401.2
29
270
M6
B
0.23√3-25-3
0.4
0.23
25
501.4
36.2
330
M6
B
0.23√3-30-3
0.4
0.23
30
601.7
43.5
210
M10
C
0.25√3-1-3
0.4
0.25
1
17
1.3
130
M6
A
0.25√3-2-3
0.4
0.25
2
34
2.7
130
M6
A
0.25√3-3-3
0.4
0.25
3
50.9
4
130
M6
A
0.25√3-4-3
0.4
0.25
4
67.9
5.3
130
M6
A
0.25√3-5-3
0.4
0.25
5
84.9
6.7
130
M6
A
0.25√3-6-3
0.4
0.25
6
101.9
8
130
M6
A
0.25√3-7.5-3
0.4
0.25
7.5
127.3
10
130
M6
A
0.25√3-8-3
0.4
0.25
8
135.8
10.7
220
M6
A
0.25√3-10-3
0.4
0.25
10
169.8
13.3
220
M6
A
0.25√3-12-3
0.4
0.25
12
203.7
16
220
M6
A
0.25√3-14-3
0.4
0.25
14
237.7
18.7
220
M6
A
0.25√3-15-3
0.4
0.25
15
254.6
20
220
M6
B
0.25√3-16-3
0.4
0.25
16
271.6
21.3
220
M6
B
0.25√3-18-3
0.4
0.25
18
305.6
24
220
M6
B
0.25√3-20-3
0.4
0.25
20
339.5
26.7
270
M6
B
0.25√3-25-3
0.4
0.25
25
424.4
33.3
270
M6
B
0.25√3-30-3
0.4
0.25
30
509.3
40
210
M10
C