CJ19 Switch-Over Capacitor Contactor
General Description:
ZHIYUE brand of CJ16(19) Switch-over capacitor contactor is new type of components for electric appliances,which is developed and produced on the basis of the introduced foreign technology of the same kind , The device is widely applied to the low voltage reactive power compensation screen to replace the subassembly composed of three Xd1 current-limiting reactors and a CJ10 cotnactor, and it is also can be used in the general control circuit to limit flashy flow.
Characteristics:
1.The contactor has install current –limited resistor, can restrain the switch on inrush current .
2.The contactor is direct-acting and double-break structure, operation flexible, conveniently manual operation inspect.
3. The contactor connection terminal has insulating boot , very safe.
4. The contactor can be install by screw, also can install in the bus bar.
Working condition:
1. The altitude of installation place can not exceed 2000mm
2. Air temperature around can not exceed 40℃, not lower than -5℃.
3. Humidity: 50% at 40℃.,90% at 20℃.
4. Install condition: can not incline 5℃ to vertical plane.
5. Class of pollution :3 degree
6. No impact and shake.
Main technical data:
Model

CJ19-32

Conventional thermal current (A)

32

Rated current(A) AC-6b A

25

Controlled capacitor kvar

230V-250V

9

400V-450V

15

690V

15

Capability to restrain surge

20In

Coil

Working voltage Us 50Hz V

220,380 according to the customer's requirement

Operating range

0.85-1.1 Us

Consumed power VA

Start

115

holding

11

Electrical endurance 104 times

10

Mechanical life 104 times

100

The max operation frequency times/h

300

Insulation voltage (V)

500V

Auxiliary contact

Convention thermal current (A)

10

Electrical endurance 104 times

AC-15

360VA

12

DC-13

33W

12

The smallest load to connect

6V x 10 mA

Current-limited resistor input time (ms)

7-9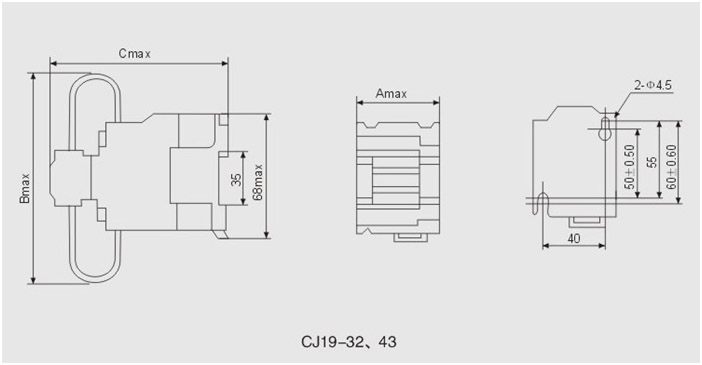 Overall and installation size
| | | | | |
| --- | --- | --- | --- | --- |
| CJ19 Contactor | A MAX | B MAX | C MAX | CONTROL CAPACITY |
| CJ19-25 | 47 | 80 | 124 | SUITABLE CAPACITOR≤ 12kvar≤ |
| CJ19-32 | 58 | 90 | 132 | SUITABLE CAPACITOR≤ 15kvar≤ |
| CJ19-43 | 58 | 90 | 136 | SUITABLE CAPACITOR≤ 20kvar≤ |
| CJ19-63 | 79 | 132 | 150 | SUITABLE CAPACITOR≤ 12kvar≤ |
| CJ19-95 | 87 | 132 | 160 | SUITABLE CAPACITOR≤ 30kvar≤ |
| CJ19-115 | 121 | 220 | 156 | SUITABLE CAPACITOR≤ 60kvar≤ |
| CJ19-150 | 121 | 220 | 156 | SUITABLE CAPACITOR≤ 80kvar≤ |
| CJ19-170 | 121 | 220 | 156 | SUITABLE CAPACITOR≤90kvar≤ |