Box type BSMJ Low Voltage Power Capacitor
General Description:
ZHIYUE brand of self-healing type low voltage capacitor made of the advanced metalized film, is produced strictly in accordance with the Nation Standard and IEC standard by the introduced advanced foreign techniques and equipment. The device is suitable for low voltage power network to improve power factor, reduce reactive loss and better the voltage quality.
Characteristics:
1.Small volume, light weight and convenient installation
2.No oil leakage, no-toxic and environment protection
3.Low loss, little radiation and low temperature rise
4.Excellent self-healing performance
5.Safety
Working condition:
1.Altitude: lower than 2000m
2.Ambient temperature: -25~50℃degree
3.Humidity: smaller than 85%
4.After the power cut off, reputing when make sure the remain voltage is smaller than 10% of the rated voltage, usually this time is 200s, so the controller you use should has the function of time delay for reputing after cut off.
Technical data:
2.Rated voltage: 230VAC, 400VAC, 525VAC, 690VAC, 750VAC, 1050VAC, 1200VAC
3.Rated output: 1-60 KVAR
4.Rated frequency: 50Hz or 60Hz
5.Capacitance Tolerance: -5% - +10%
6.Tangent of the loss angle: With the power frequency rated voltage,
7.Withstand voltage: Between terminal 2.15 times rated voltage for 5 seconds, between terminals and container 2 Un+2Kv or 3KVAC choose the higher one for 10 seconds.
8.Max permissible over-voltage: 110% rated voltage
9.Max permissible over-current: 130% rated current
10.Self-discharge feature: Less than 50V in 3min after power broke down when the DC is√2 Un as before increased by the capacitors.
11.Applicable standard: GB/T 12747-2004, IEC60831-2002.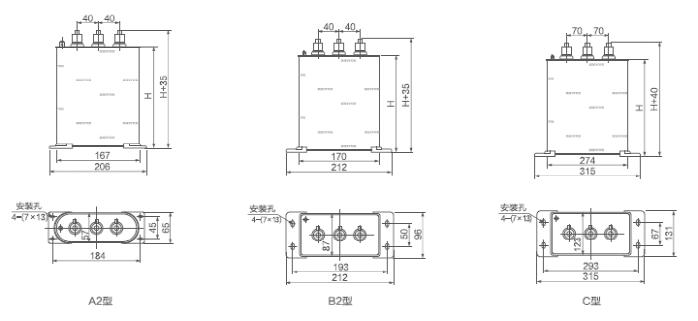 Model BSMJ
BCMJ BZMJ
Rated
Voltage(kV)
Rated
Output (kvar)
Rated
Capacitor(uF)
Rated
Current(A)
H
(mm)
Output
Terminal
Shell
Type
0.4-1-3
0.4
1
19.9
1.4
105
M6
A1
0.4-2-3
0.4
2
39.8
2.9
105
M6
A1
0.4-3-3
0.4
3
59.7
4.3
125
M6
A2
0.4-4-3
0.4
4
79.6
5.8
125
M6
A2
0.4-5-3
0.4
5
99.5
7.2
125
M6
A2
0.4-6-3
0.4
6
119.4
8.7
125
M6
A2
0.4-7.5-3
0.4
7.5
149.2
10.8
125
M6
A2
0.4-8-3
0.4
8
159.2
11.6
125
M6
A2
0.4-10-3
0.4
10
198.9
14.4
180
M6
A2
0.4-12-3
0.4
12
238.7
17.3
180
M6
A2
0.4-14-3
0.4
14
278.5
20.2
210
M6
A2
0.4-15-3
0.4
15
298.4
21.7
210
M6
A2
0.4-16-3
0.4
16
318.3
23.1
210
M6
A2
0.4-18-3
0.4
18
358.1
26.0
245/210
M6
A2/B2
0.4-20-3
0.4
20
397.9
28.9
245/210
M6
A2/B2
0.4-22-3
0.4
22
437.7
31.8
210
M8
B2
0.4-24-3
0.4
24
477.5
34.6
210
M8
B2
0.4-25-3
0.4
25
497.4
36.1
210
M8
B2
0.4-28-3
0.4
28
557.3
40.4
260
M8
B2
0.4-30-3
0.4
30
596.8
43.3
260
M8
B2
0.4-35-3
0.4
35
696.3
50.5
260
M8
B2
0.4-40-3
0.4
40
796.2
57.7
320
M8
B2
0.4-45-3
0.4
45
895.2
65.0
210
M10
C
0.4-50-3
0.4
50
995.2
72.2
210
M10
C
0.4-55-3
0.4
55
1094.2
79.4
260
M10
C
0.4-60-3
0.4
60
1194.3
86.6
260
M10
C
0.45-1-3
0.45
1
15.7
1.3
105
M6
A1
0.45-2-3
0.45
2
31.4
2.6
105
M6
A1
0.45-3-3
0.45
3
47.2
3.8
125
M6
A2
0.45-4-3
0.45
4
62.9
5.1
125
M6
A2
0.45-5-3
0.45
5
78.6
6.4
125
M6
A2
0.45-6-3
0.45
6
94.3
7.7
125
M6
A2
0.45-7.5-3
0.45
7.5
117.9
9.6
125
M6
A2
0.45-8-3
0.45
8
125.8
10.3
125
M6
A2
0.45-10-3
0.45
10
157.2
12.8
180
M6
A2
0.45-12-3
0.45
12
188.6
15.4
180
M6
A2
0.45-14-3
0.45
14
220.1
18.0
210
M6
A2
0.45-15-3
0.45
15
235.8
19.2
210
M6
A2
0.45-16-3
0.45
16
251.5
20.5
210
M6
A2
0.45-18-3
0.45
18
282.9
23.1
245/210
M6
A2/B2
0.45-20-3
0.45
20
314.4
25.7
245/210
M6
A2/B2
0.45-22-3
0.45
22
345.8
28.3
210
M8
B2
0.45-24-3
0.45
24
377.3
30.8
210
M8
B2
0.45-25-3
0.45
25
393.2
32.1
210
M8
B2
0.45-28-3
0.45
28
440.3
35.9
210
M8
B2
0.45-30-3
0.45
30
471.8
38.5
210
M8
B2
0.45-35-3
0.45
35
550.2
44.9
260
M8
B2
0.45-40-3
0.45
40
629.1
51.3
260
M8
B2
0.45-45-3
0.45
45
707.4
57.7
210
M10
C
0.45-50-3
0.45
50
786.3
64.2
210
M10
C
0.45-55-3
0.45
55
864.5
70.6
210
M10
C
0.45-60-3
0.45
60
943.6
77.0
210
M10
C
0.525-5-3
0.525
5
57.7
5.5
125
M6
A2
0.525-10-3
0.525
10
115.5
11.0
180
M6
A2
0.525-15-3
0.525
15
173.2
16.5
210
M6
A2
0.525-16-3
0.525
16
184.8
17.6
210
M6
A2
0.525-18-3
0.525
18
207.9
19.8
210
M6
B2
0.525-20-3
0.525
20
231.0
22.0
210
M6
B2
0.525-25-3
0.525
25
288.7
27.5
210
M8
B2
0.525-30-3
0.525
30
346.5
33.0
260
M8
B2
0.525-40-3
0.525
40
461.9
44.0
320
M8
B2
0.525-50-3
0.525
50
577.4
55.0
210
M10
C
0.525-60-3
0.525
60
692.9
66.0
260
M10
C
0.69-5-3
0.69
5
33.4
4.2
125
M6
A2
0.69-10-3
0.69
10
66.9
8.4
180
M6
A2
0.69-15-3
0.69
15
100.3
12.6
210
M6
A2
0.69-16-3
0.69
16
107.0
13.4
210
M6
A2
0.69-20-3
0.69
20
133.8
16.7
210
M6
B2
0.69-25-3
0.69
25
167.2
20.9
210
M6
B2
0.69-30-3
0.69
30
200.7
25.1
260
M8
B2
0.69-40-3
0.69
40
267.4
33.5
320
M8
B2
0.69-50-3
0.69
50
334.3
41.9
210
M10
C
0.69-60-3
0.69
60
401.1
50.2
260
M10
C
1.2-5-3
1.2
5
11.0
2.4
180
M6
A2
1.2-10-3
1.2
10
22.0
4.8
210
M6
A2
1.2-15-3
1.2
15
33.2
7.2
245
M6
A2
1.2-20-3
1.2
20
44.2
9.6
210
M6
B2
1.2-25-3
1.2
25
55.3
12
210
M6
B2
1.2-30-3
1.2
30
66.3
14.4
210
M10
C
1.2-40-3
1.2
40
88.4
19.2
210
M10
C
1.2-50-3
1.2
50
110.5
24.1
210
M10
C